New Features and Filter Updates:
New incoming calls and SMS that are not matching leads in your CRM will be created as NEW LEADS
Any incoming calls and SMS messages (that are not matched to any leads in your CRM) will now create a new lead in your AgentLocator CRM. With this feature, more leads will come into your CRM, and you will have more potential conversions. 
If it is an incoming call, and that phone number does not match any existing lead in my CRM, then:
CRM will create a new lead 

The Lead's phone number will be populated and marked as valid in your AgentLocator CRM

The source will be automatically set as

Incoming Call

for calls and

Incoming SMS

for SMS Messages

The call will be logged under the

Notes and Calls

section of the lead profile for the call, and the SMS message will be logged under the

SMS

tab.

Lead will be assigned to the Agent who owns the Twilio Number (assigned as the Main Agent)
Pro tip: Make sure you include your Twilio number in all your marketing campaigns because each time you get a new call and message, you will automatically get a new lead in your CRM.
HomeWorth Landing Page Updates
Previously, when there were no properties to compare against, the HomeWorth page would display an average value of $0 for similar properties as the average value for similar properties. This would cause some confusion with your leads, so we have now enhanced the experience for the users of the HomeWorth landing pages.
Instead of returning this $0 value, the HomeWorth page will display a message letting your leads know there are no active/sold properties to compare against in a 350m radius.
With this latest update, the lead is fully aware that there isn't anything active (Active or Sold properties) within that range, so they will avoid getting caught off guard with that zero-dollar value.
Now, this information is also going to be available for you as well, in your Notes & Calls section, and you are going to see your leads' Property Info containing:
Address of the property

Type of house

Square feet

Average price for active properties and 

Average price sold properties
Pro tip: This feature will help you to be fully aware that your leads received that message upon signing up on the website, so a response does not catch you off guard that you may get from a lead, but rather steer that conversation in the direction that you wanted to go.
Websites - Sold/rented property prices are now more prominent
To improve user experience, with the latest website updates, we made the sold/rented price more prominent on the property details for sold/rented properties.
The listed price is still visible, but it is now beside the sold/rented price with a strikethrough and grey colour.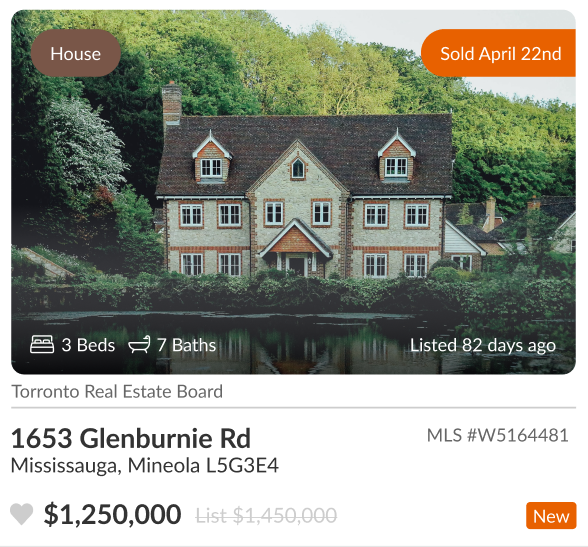 Need help with our new features?
If you need any help, email our support team at support@agentlocator.ca and we will be happy to help!